Hardly a day passes without an industry leader or political figure making a prediction about the impact of artificial intelligence and intelligent automation - in the workplace, at school and at home.

Just this week at Dreamforce - the annual Salesforce Conference - CEO Mark Benioff spoke with CNN about his concern that technologies such as machine learning have potentially contributed to inequality in the workforce and a divided world.
At this year's HubSpot's Inbound Conference, Andy McAfee, MIT Principal Research Scientist and tech industry thought leader, advises that in order to prepare for a chess match against a computer, you need to bring a hammer. What does this mean? Machines are not just learning how to play the game better (or do a job better), they are actually thinking and playing it in a totally different way than us. This means changing the nature of the game itself. Bottomline, are we living times of machine-worship or rather machine-fear?
In a world where you can fill your bookcase or Kindle just reading about AI, how can you narrow the list? We are asked this question all the time by our clients (themselves implementing robotic process automation solutions at their companies), so I pulled together a few of my favorite books to recommend to you.
My top of the list is "Humans Need Not Apply: Winners and Losers in the Age of Smart Machines" by Thomas H. Davenport, academic and author specializing in analytics, business process innovation and knowledge management, and Julia Kirby, senior editor at Harvard University Press and a contributing editor for the Harvard Business review.
What I appreciate most about this book is its moderate, calculated optimism. It was refreshing to read such down-to-earth answers to such a debated question: Are knowledge workers going to lose their jobs to automation, just like factory workers did a century ago? Is technological unemployment now threatening jobs we thought only humans could do?
Gloomy predictions related to Artificial Intelligence and Intelligent Automation are so abundant nowadays. Maybe it's because we are still under the influence of dystopian Hollywood productions and Sci-Fi literature, where AI will basically bring about the end of humanity. Or maybe it is because today's techno-pessimists all seem to think the AI revolution will happen overnight: we will just wake up one day with absolutely no control over the techno-sphere.
The authors admit the pace is indeed getting faster, and we are seeing disruptive advancements happen frequently - some even overnight. But the fact that we have everybody debating about AI - from philosophers to doctors and from CEOs to unions - is a sign that we have enough time to carefully consider our options so that we will not have created something we cannot control. Moreover, Davenport and Kirby propose that "The upside potential of the advancing technology is the promise of augmentation—in which humans and computers combine their strengths to achieve more favorable outcomes than either could do alone".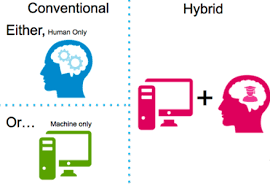 Source: Scorpiopartnership
The key term here is "augmentation". As opposed to pure "automation", which focuses on nothing more than manual labour reduction and cost efficiency, "augmentation" allows human workers to be better at their job or take up higher-value tasks. At the end of the day, write the authors, the machines must add value to human jobs and the humans must in turn improve the machines. This apporach does take into consideration the "Rise of the Robots" (the famous techno-pessimistic book by Martin Ford), but aims to help today's knowledge workers keep up with the times and start using automation in their own interests. Be they managers, staff or assembly line workers, they need to fundamentally upgrade their jobs by performing more value-added tasks with better insight, greater analysis and more innovative thinking - and less repetition and useless churn while at it.
The authors suggest 5 ways in which professionals across industries can create and find sustainable careers in the near future:
Stepping Up - There will still be high-level decisions which need to be handled at a higher cognitive level than basic automated machine-level problem solving. The former takes judgement while the latter affects small, repetitive tasks.
Stepping Aside - Letting the machines in your field take over the tasks they do best and focus on value that machines just cannot deliver. Fall back on strengths that are commonly human.
Stepping In - Rely on machines to make routine decisions but know when to correct their mistakes and tweak them for better performance. Most importantly, learn how to explain automated logic to other people.
Stepping Narrowly - Hyperspecialization might turn out to be just too narrow for anyone to automate. Be the opposite of a jack-of-all-trades.
Stepping Forward - Be yourself the builder of the next generation of smart machines. It takes both entrepreneurial and technical skills to automate the intelligence of the knowledge worker.
In conclusion, we do need to adapt to smart machines because they are coming after many of our jobs - but the writers insists that, in doing so, we actually make ourselves less futile, more sustainable and more valuable.
--
Other recommendations for your reading list: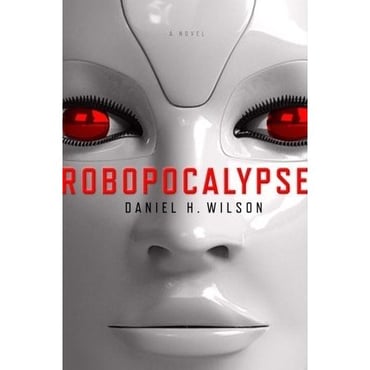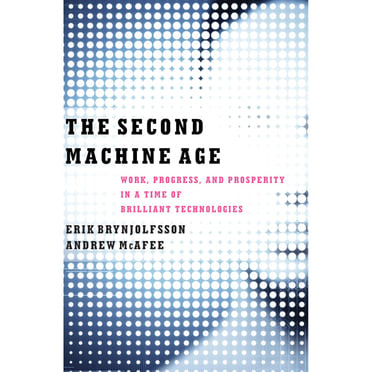 - Robopocalypse, a dystopian novel by Daniel H. Wilson which imagines a world dominated by out of control AI
- The Second Machine Age: Work, Progress, and Prosperity in a Time of Brilliant Technologies by Erik Brynjolfsson and Andrew McAfee
---
Interested in knowing more about how Artificial Intelligence can augment Robotic Process Automation (RPA)? Check out our in-house developed, neural network-based docBrain technology which uses machine learning principles to recognise handwritten, deteriorated and generally difficult to read documents.