Cognitive RPA
Sectors such as finance, legal, manufacturing, transport, energy and healthcare are seeing their largest companies implementing robotic process automation to optimize business processes and speed up digital transformation. Most of the current-day automation is directed towards redundant, repetitive tasks such as copy-pasting, launching applications, uploading, downloading or backing up emails. This is why more and more RPA solutions include AI technologies, making day-to-day operations not only more efficient but more value-generating.
At the other end, more and more customers are embracing mobility, making smartphones the new document scanners. This raises new issues for those extracting and analysing the data. On one hand, input images are low quality and unstructured, making validation more difficult. On the other hand, validation needs to be instantaneous and reliable so that the transaction is just as quick as snapping a picture.
KAPTAIN is a solution and an ecosystem. It combines the docbrain's uniquely powerful - and cognitive - data capture with mobile application development and enterprise-level robotic process automation. The result is an end-to-end, mobile, intelligent and automated document processing solution.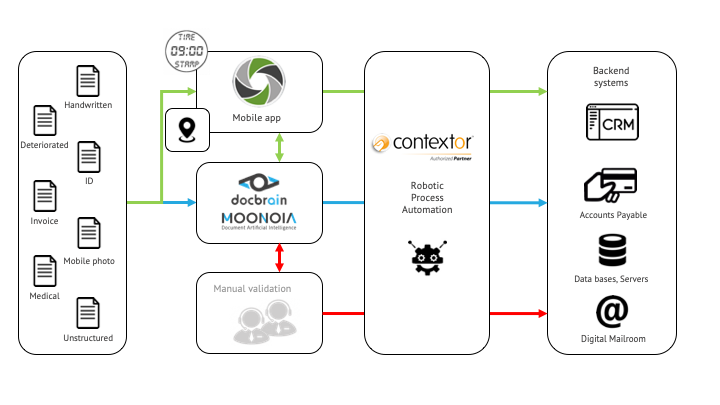 How does KAPT
AI

N work?

Users are prompted via the Shoot and Prove* mobile app to send a certain document - ID, proof of purchase, utility meter reading etc. Sending means simply snapping a photo with their smartphone camera. The app automatically adds a time stamp and location to the photo, turning this action into a transaction and generating an electronic original of the document with legal probatory force.

The image is sent to a Moonoia server and docbrain instantly processes the image, automatically extracting the data from the image using specially trained AI models. Processing raw images from customers is a particularly difficult task for machines because prior to extracting the data they need to determine where exactly in the picture is the requested document located. Most of the times, end-customers send images that are not optimized for capture - sizes and formats vary a lot, documents are skewed, lighting is bad and the entire picture is blurry or contains too many other elements besides the document. docbrain applies a combination of image enhancement, intelligent cropping, advanced OCR and many other document analysis engines to be able to automatically extract the requested data from a document. If the content is too difficult to read automatically, Moonoia sends the exceptional case to a dedicated manual validation team.

These workflows can generate massive volumes of incoming data every day, potentially overcharging any company's backend systems. This is where robotic process automation comes into play, orchestrating new processes for both back and front office, improving the efficiency of large business.

* Shoot and Prove was an external partner. Their solutions does not exist under the same form anymore but other versions of the solution are available.