Exciting times ahead!
One of Moonoia's top projects has been shortlisted for the "Digital Project of the Year 2017" competition organized by Data News, Belgium's reference magazine for the ICT industry. Together with the "CIO of the Year", the winning project will be announced during the award ceremony which will take place in Brussels on October 25th. Fingers crossed!

About the Finalist Project
"Processing Medical Claim Forms with Artificial Intelligence" was implemented by the Partena mutualities, which are some of Belgium's largest health insurance funds.
The project brought about innovation and transformation at all levels - technology, business, people - not only to the end user but to Moonoia as creator and supplier of AI-powered solutions.
If you want to learn more about this project (business and technological aspects), we invite you to watch our dedicated webinar.
The Challenge
Health insurance funds in Belgium (locally referrred to as "mutualities") are getting smarter. Or, at least, they are actively looking for ways to do so. The reasons are either top-down government measures (less funding, less paper documents) or grass root customer trends (digital empowerment, instant gratification, more service options).
With 1.3 million members and 20 000 reimbursements to make every day, the Partena mutualities realized it was time to enhance their operational efficiency, especially in relation to processing what is arguably Belgium's most popular paper document: the medical claim form. End-to-end processing speed and data accuracy needed boosting, while overall costs had to decrease. The latter are typically high because manual data validation is needed once traditional OCR cannot make sense of the handwritten fields on the form. Let us remind you it is doctors' handwriting we are dealing with!
The reality is that these documents, although standardized, are far from optimized for OCR to ever yield 100% accurate results. The problem with cursive handwriting is that it is... well, cursive. Comb fields (vertical lines separating characters) would have helped, but unfortunately the document only has a couple of dotted lines. Whoever fills the form is free to write in their own (sometimes illegible to humans) style.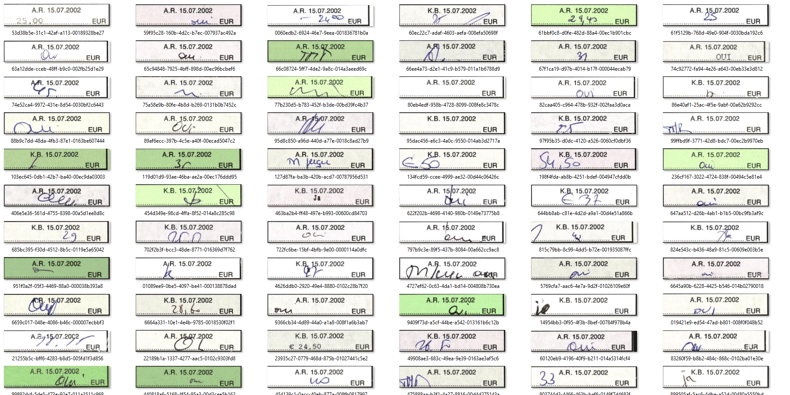 The Solution
Technology. After years of expertise in business process outsourcing - scanning, document monitoring, hosting, disposal, etc. - Moonoia developed docBrain, a set of revolutionary technologies for cognitive capture based on deep neural networks. Once the proof of concept was in place and the algorithms trained, the results were without precedent. The software automatically classified documents and extracted the data with unparalleled accuracy, often superior to that of human operators.
Business. One of the initial criteria was to ensure a smooth transition between old and new. Moonoia succeeded in creating an agile, comfortable ecosystem where all partners learned to trust artificial neurons. Going "cognitive" also meant a much deeper insight into all the different stages of the process.
People. Higher-value jobs were created, as operators were now handling more complex tasks such as inaccuracy detection, quality assurance, fraud signalling. Process intelligence brought about predictability and flexibility which in turn translated into better shceduling non-core activities - workshops, trainings.
The Benefits
The Partena mutualities are reimbursing their members faster and more accurately than ever. Since they implemented intelligent capture, customer satisfaction has been on a steadily positive trend.
Moonoia drew priceless learnings from deploying an AI-based project at such large scale. Just like the rest of the tech world, we are only beginning to grasp the full potential of deep learning neural network technology. "Processing Medical Claim Forms with Artificial Technology" was paramount for us to realize there is no out-of-the-box answer to different business uses. We are in the business of automation, yet everything is customized. Learning is a highly personalized process.
Looking forward to meeting old friends and making new ones at the Data News award ceremony!
---
To learn more about AI and deep learning solutions for data extraction, document classification and information management, visit us at www.moonoia.com.