From one individual to millions of documents
Sectors such as finance, legal, manufacturing, transport, energy and healthcare are seeing their largest companies implementing robotic process automation to optimize business processes and speed up digital transformation. Most of the current-day automation is directed towards redundant, repetitive tasks such as copy-pasting, launching applications, uploading, downloading or backing up emails. However, more and more RPA solutions are integrating AI technologies into workflows, making day-to-day operations not only more efficient but more value-generating. Cognitive RPA is here.
At the other end, more and more customers are embracing mobility, making smartphones the new document scanners. This raises new issues for those extracting and analysing the information. On one hand, input images are low quality and unstructured, making validation more difficult. On the other hand, validation needs to be instantaneous and reliable so that the transaction is ultimately just as quick as snapping a picture.
KAPTAIN is the end-to-end document processing solution that combines the uniquely powerful AI recognition of docBrain, the robotic process automation of Contextor and the mobile transaction app Shoot & Prove.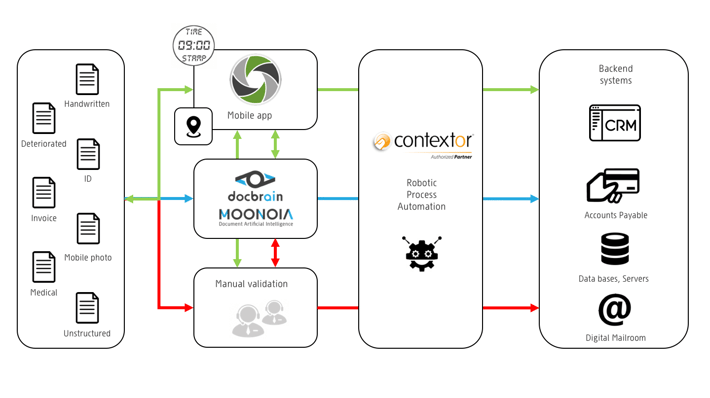 KAPTAIN general flow & ecosystem
Customers receive a push notification from their bank, insurance company, hospital etc. related to anything from ID updates to invoice payments, time sheets and utility meter readings. Or they simply decide to send a certain document to a certain institution, without receiving any notification from the latter. By snapping a picture of the document, they generate, certify and exchange electronic originals to safely use in their day-to-day transactions.
Shoot & Prove sends the image to Moonoia so that docBrain can recognise and extract the necessary data. This usually takes just a few seconds thanks to docBrain's deep neural networks trained to read handwriting and unstructured content better and faster than human operators. In the unlikely event of content being too difficult to read automatically, Moonoia sends the case to a dedicated manual validation team.
Either of these flows can generate massive volumes of incoming data every day, potentially overcharging any company's backend systems. Finally, this is where robotic process automation comes into play, orchestrating new processes for both back and front office, improving the efficiency of large business.
Shoot & Prove live demo
Launching KAPTAIN
KAPTAIN will be showcased for the first time during the AI Paris event on June 11th and 12th at the Cité de la Mode et du Design (34 Quai d'Austerlitz, 75013) in Paris. Drop us a visit in the E5 section and meet the future of document processing. Hint: it is automated, mobile and intelligent.