Easy AI to automate your business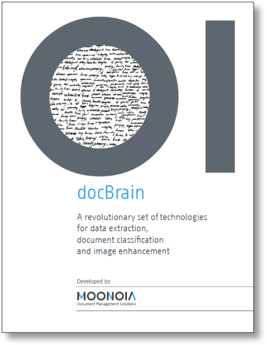 Features at a glance:
> language-agnostic handwriting recognition adapts to writing style, letter size
> deduction, or the ability to fill in missing information from deteriorated documents
> image enhancement improves the quality of the documents for either recognition or simple archiving
> automatic classification of structured, semi-structured or unstructured content
> high configurability of user-specific rules and confidence levels
> self-performed quality assurance tests

Big data: Too much content & Too little structure
How much is the manual validation of your most complex documents costing you? Handwritten claims, deteriorated paper files, unconstrained and unoptimised forms - all these documents that are difficult to read are slowing you down just when your business processes need to be fast, efficient and reliable. To make matters more complicated, information sources have multiplied as customers have become more digitally empowered. Documents entering your systems have more chances to be mobile phone pictures than scanned images. Unstructured content is ubiquitous, but you still need structured data to extract meaning and generate value from. This is why, in the era of Big Data, more is not necessarily better.
Big needs: Accuracy & Efficiency
Traditional OCR technologies can only read so much from handwritten, deteriorated or unconstrained documents, leaving up to one third of the content to human operators to decipher. Manual validation takes both time and money while not reaching the accuracy levels we demand today. It is time to raise the bar.
During the past few years, neural network technology has revolutionized image and natural language processing, data extraction (capture) and document classification. Through a continuous deep learning process, layers upon layers of artificial neurons are being trained on millions of sample images in order to detect patterns and recognize assets that even knowledge workers cannot. This makes straight-through processing a reality for up to 80% of the operations concerning your valuable but nonetheless problematic, handwritten documents.
Big benefits: Process Intelligence & Predictability
Automating high value, document-centric processes is crucial for gaining competitive advantage in this day and age, allowing you more time and resources to focus on core activities while making sure your business decisions are based on the correct data. Moreover, your human resources can undertake higher-value tasks while becoming more flexible.
Why docBrain ?
Years of expertise in the BPO sector and extended R&D capabilities have made it possible for Moonoia to develop a proprietary software that would meet the industry's highest, newest standards - recognize and classify handwritten documents as accurately and efficiently as possible. Managing electronic documents for some of Belgium's largest health insurance companies has also offered Moonoia significant datasets for the development of a hihgly advanced software both technically and functionally.
Case study:
docBrain was the main technological differentiator in the award-winning project "Processing Medical Claim Forms with Artificial Intelligence".